Chiocchetti, Paolo (2017). The radical left party family in Western Europe, 1989-2015. Abingdon: Routledge.

ISBN:978-1-13865618-5.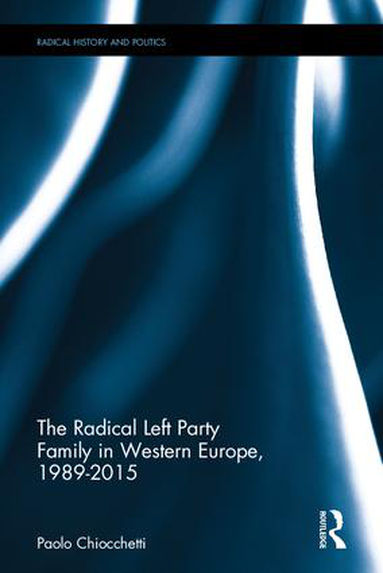 ABSTRACT
This book provides an innovative analysis and interpretation of the overall trajectory of the Western European radical left from 1989 to 2015. After the collapse of really existing communism, this party family renewed itself and embarked on a recovery path, seeking to fill the vacuum of representation of disaffected working-class and welfarist constituencies created by the progressive neoliberalisation of European societies. The radical left thus emerged as a significant factor of contemporary political life but, despite some electoral gains and a few recent breakthroughs (SYRIZA in Greece, PODEMOS in Spain), it altogether failed to embody a credible alternative to neoliberalism and to pave the way for a turn to a different developmental model.
This book investigates why this was the case, combining aggregate (17 countries), case study (Germany, Italy, and France), and comparative methods. It accurately charts the evolution of the nature, strength, cohesion, and influence of the Western European radical left, offering new insights in explaining its behaviour, success, and limits. It is essential reading for scholars, students, and activists interested in the radical left and in contemporary European politics.
REVIEWS
1. Babak Amini (2017). Book review: The Radical Left Party Family in Western Europe, 1989–2015, New Political Science, 39(3): 424-6, DOI: 10.1080/07393148.2017.1339419
"[the book] provides not only a comprehensive and freely available database with temporally homogenized data on party strength of several European radical left parties operationalized based on electoral, governance, and membership strengths (both in term of absolute and weighted strengths), but also a sophisticated methodology that we can apply to other cases to broaden our understanding of the evolution and prospects of radical left in western Europe."
2. Baccetti, Carlo (2017). Book review: The Radical Left Party Family in Western Europe 1989-2015, Italian Political Science, 12(1). Available at: https://italianpoliticalscience.com/2017/06/01/br_12_1_2/
"I believe that what Chiocchetti's careful and very detailed reconstruction does is to highlights the great differentiation among partisan subjects who would like to be grouped into a single family."
3. Vittori, Davide (2017). Book review: The Radical Left Party Family in Western Europe 1989-2015, Political Studies Review, 15(4). DOI: 10.1177/1478929917717444
"The analysis of the cross-national trends in both pre- and post-Cold War contexts is accurate and, mostly, it is matched with an insightful historical contextualisation, which frames the strategies of RLPs vis-à-vis the most relevant international events."
4. Mannewitz, Tom (2018). Rezension: Zwei aufschlussreiche Studien zu radikalen linken Parteien in Europa, Politische Vierteljahresschrift 59(3): 611-614. DOI: 10.1007/s11615-018-0101-0. Available at: https://link.springer.com/article/10.1007/s11615-018-0101-0
"[…] ein historischer Parforceritt, der 1914 beginnt und 1988 endet. […] Es ist ein Verdienst Chiocchettis, seiner Analyse dieses enorme historische Präludium vorgeschaltet zu haben, zumal es nicht auf eine Chronologie, sondern eine analytische Darstellung hinausläuft."
CITATIONS
1. Musto, Marcello (2017). The post-1989 radical left in Europe: results and prospects. Socialism and Democracy 31(2): 1-32. DOI: 10.1080/08854300.2017.1337997
2. Roder, Knut (2017). The Missing Linke? Restraint and Realignment int he German Left, 2005-2017. Revista Española de Ciencia Política, 45, 43-65. DOI: 10.21308/recp.45.02
3. Moschonas, Gerassimos (2017). European Social Democracy, Communism, and the Erfurtian Model. In: William Outhwaite and Stephen Turner (eds). The SAGE handbook of sociology. Thousand Oaks: SAGE.
4. Jesse, Eckhard and Tom Mannewitz (eds) (2018). Extremismusforschung: Handbuch für Wissenschaft und Praxis. Baden-Baden: Nomos, 53 and 295.
5. Ferreira, Maria and Pedro Fonseca (2018). Demolishing Portugal's "Berlin Wall": The Portuguese Left Against Austerity Policies. In: Isabel David (ed), Crisis, Austerity, and Transformation; How Disciplinary Neoliberalism Is Changing Portugal. Lanham, Rowman & Littlefield Publishers, 135.
6. Baier, Walter (2018). The memory and identity of the Western European Left in the light of European Integration. In: Agnieszka Mrozik and Stanislav Holubec (eds). Historical Memory of Central and East European Communism. New York: Routledge, 94 and 95.
AVAILABILITY
Previews of the content are available on Book2look and GoogleBooks.
The full book is available in hard or electronic copies in more than 110 university libraries worldwide. You can find an incomplete list on the Karlsruhe Virtual Catalog.
ORDER
You can order a hard copy from Routledge. Make sure to enter the code FLR40 at checkout for a 20% discount (£72.00 instead of £90.00).
A more affordable eBook can be ordered on Amazon (Kindle edition, £34.99) or iTunes (ePub).