Chiocchetti, Paolo and Frédéric Allemand (eds) (2017). Competitiveness and solidarity in the European Union: interdisciplinary perspectives. Abingdon: Routledge. ISBN:978-1-13854587-8. https://www.routledge.com/9781138545878.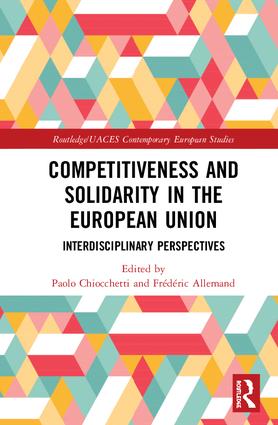 ABSTRACT
Starting in the 1980s, competitive pressures and the ideology of competitiveness have shaken and transformed traditional models of development, public policy, and governance in Europe.
This edited book carries out a comprehensive, interdisciplinary, and innovative analysis of the relationship between competitiveness and solidarity in the contemporary European Union. It offers an original contribution to the scholarly debates on the current developments and challenges of welfare states, social and economic policies, and forms of governance in the European Union. Bringing together an international team of cutting-edge scholars in the social sciences and the humanities, Competitiveness and Solidarity in the European Union sheds light on the conceptual richness and policy relevance of these relationships, pointing to important avenues to make the European Union more economically successful and socially fairer.
This book will be of key interest to scholars and students of European Union studies and, more broadly, of EU Law, Public Policy, Economics, Sociology, Political Science, Geography, and Contemporary History.
TABLE OF CONTENTS
1. Introduction [Paolo Chiocchetti and Frédéric Allemand]
2. Competitiveness, Solidarity, and their Relationship: A Theoretical Framework [Paolo Chiocchetti]
3. European Competitiveness: Competition, Cooperation, Solidarity [Frédéric Allemand]
4. Competitiveness and Solidarity in the History of the European Union, 1957-2017 [Laurent Warlouzet]
5. Competition, Cooperation, and Solidarity in EU Law: A Federal Perspective [Sacha Garben]
6. Harnessing Competitiveness for Social and Ecological Goals: High-road Competitiveness is Necessary and Feasible [Karl Aiginger]
7. The Social and Solidarity Economy: A Bottom-up Alternative? [Jennifer Eschweiler and Lars Hulgård]
8. Social Capitalism is a Thing of the Past: Competition-driven Landnahme and the Metamorphosis of the German Model [Klaus Dörre]
9. Competitiveness in Public Hospitals: The Case of France [Hicham Rassafi-Guibal]
10. Competitive Solidarity and Regional Development: The Case of Italy [Laura Polverari]
11. Competitive Solidarity and Regional Development: The Case of Poland [Bolesław Domański]
12. The Road Towards a Genuine Economic and Monetary Union: More Competitive and Fairer [Annette Bongardt and Francisco Torres]
13. Striking a Balance between Competitiveness and Social Fairness: What Can We Expect From The European Pillar of Social Rights? [Susana Muñoz]
14. Conclusion [Paolo Chiocchetti and Frédéric Allemand]
ORDER
The book is available for pre-order from Routledge. Make sure to enter the code FLR40 at checkout for a 20% discount (£92.00 instead of £115.00).